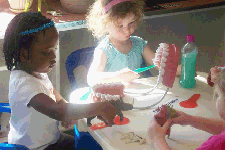 Only 10% of child care centers in the nation are accredited.
Pathways Accreditation was developed by Children's Institute and a team of experts in the field of early education and care to provide an efficient and affordable way for centers to improve quality and achieve their accreditation goal.
When you partner with Pathways for your accreditation needs, you will experience a superior, exceptionally friendly system at a reasonable cost. Pathways recognizes and builds on the experience and accomplishments of your center and staff.
Goals:
To promote safe, high quality child care settings where children can thrive and reach their full potential
To promote and facilitate excellence for child care providers
To ensure clear, reliable, and valid accreditation processes that providers and parents support and understand
Benefits:
A rigorous accreditation system that blends the best thinking of many experts in the field with the identified strengths of the providers
A process that is useful, respectful, transparent, and recognizes that there are many "pathways" to the same goal of high quality child care
Pathways accredited child care centers in Monroe County are eligible for a higher reimbursement rate
How it Works:
Pathways is based on an extensive review of national standards including Head Start, the American Academy of Pediatrics, the New York State Office of Children and Family Services, the National Association for the Education of Young Children and other national and state level accreditation and quality systems
Uses several nationally and internationally recognized, research-based assessment tools including the Early Childhood Environment Rating Scale-Revised (ECERS-R) and the Infant/Toddler Environment Rating Scale–Revised (ITERS-R)
Features a unique, user-friendly online survey that helps centers assess their readiness before they even begin the accreditation process
Includes parent surveys, interviews with staff and administrators, site visits, and technical assistance