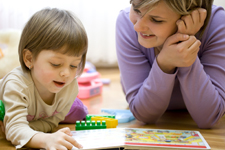 Children's Institute understands the current and emerging issues that affect children and families throughout the world. 
We are committed to efforts and initiatives that result in positive results for children and their parents, teachers, and caregivers. Our best-in-class programs are the cornerstone of that commitment.
Children's Institute has developed national award-winning programs for children and their families for over 50 years. Our programs have received two Lela Rowland Awards from the National Mental Health Association for outstanding prevention programs in the United States. Primary Project has also been recognized as one of five exemplary prevention programs in the nation in Mental Health: A Report of the Surgeon General (1999) and designated a "Promising Prevention Program" by the U.S. Department of Education's Safe, Disciplined and Drug-Free Schools Expert Panel.
One size rarely fits all, so your experience with Children's Institute will be custom-designed as we help you to identify and meet your needs to implement the programs in homes, schools, and community settings with ease.
You will feel good about your choice because our programs are all grounded in research and they have  been shown to be effective. And you will gain peace of mind knowing that you have brought the best possible resources to the children in your care.