BASIC (Building All Skills In Children)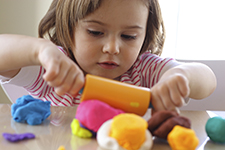 Just as no two children are alike, no one program can meet the social and emotional needs of every child. That's why local providers, early childhood professionals, and mental health professionals came together to design BASIC, which supports the delivery of an integrated, hierarchical set of evidence-based programs in child care centers.
Audience:
Children, parents, and staff at seven child care centers including Baden Street Child Development Center, Friendship Children's Center, Monroe Community College Child Care Center, Rochester Childfirst Network, St. Paul's Child Care, and YMCA Child Care at Lewis Street.
Goals:
Ensure successful child outcomes
Provide an integrated approach to meet the social and emotional needs of young children
Screen all children for appropriate services
Access to appropriate evidenced-based prevention and intervention services
Benefits:
Availability of targeted social and emotional supports
High quality, supportive environments
Nurturing and responsive relationships among children, staff, and parents
Intensive intervention for targeted children and families
How It Works:
Universal screening and evaluation of all children
Review of screening results and identification of children with referral to appropriate program(s) including Primary Project, Behavioral Health Consultation, Child Parent Psychotherapy, and Trauma-Focused Cognitive Behavioral Therapy
Fostering nurturing classrooms through the PATHS preschool program
Collaborating Partners:
Early Childhood Education Quality Council (ECEQC)
MCC Association
Mt. Hope Family Center
United Way of Greater Rochester