Social and Emotional Learning (SEL)
The foundation for a student's successful school experience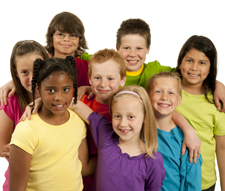 Children's Institute offers customized trainings to meet the specific needs of your students and your school
Schools that care: Social and Emotional Learning (SEL)
Time: Half day or full day
Learn about the field of social and emotional learning (SEL). Learn how studies show academic achievement gains in classrooms where SEL is the foundation. Learn how to integrate social and emotional learning into all aspects of your classroom teaching, as well as school-wide initiatives.
Teachers as emotional coaches
Time: Half day
We set the tone. We have the ability to escalate or de-escalate the situation. We can build or break a child's spirit. Come learn and reflect upon our role as the emotional coach.
Emotionally responsive language: The power of our words with children
Time: Half day
Explore the language of self-efficacy, where our words become powerful influences in building relationships with children, helping them to build a positive view of themselves. In this workshop, participants will learn why encouragement is better than praise and how to invite expression from young children.
Emotionally responsive language: The power of our words with adults
Time: Half day
Interacting with children, parents, and our colleagues is rewarding yet difficult work. This workshop takes a focused look on how the adults who care for children speak, listen, and communicate with one another. Participants will reflect on the power of emotionally responsive skills that can enhance our ability to build effective and respectful teams through intentional ways of communicating.
But wait, I'm not a therapist: Understanding children's mental health for the "non-mental health provider"
Time: Half day
All classrooms are now therapeutic. Learn about common issues in young children, how to support behavioral and emotional issues, and how to ask for help with the more common mental health issues in children.
So many changes: The impact of separation, divorce, or military deployment on young children
Time: Half day
Children are living in ever-changing and unpredictable times. Every child copes differently with change, loss, or grief. Using information that is simple and practical and drawn from the stories of children who have been on the front lines of change, we will explore what helps and what does not help.