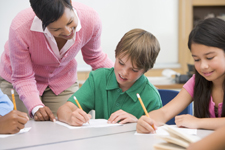 Children's Institute offers quality tools and processes to meet your assessment needs. 
Our assessment services provide critical feedback that can be used to improve entire programs and help individual children.
Our assessment processes have been created by experts in the fields of early education and care in order to better suit your needs. Our tools are valid, reliable, normed, and are available on paper and online through a web-based data collection system. We also provide training and technical assistance to help you understand how our assessment services can best work for you. 
Assessment Areas Include:
Early Care and Education

From community-wide assessment systems to national accreditation for child care centers and everything in between, Children's Institute can help you make sense of your assessment requirements and how best to fulfill them.

After School

Children's Institute recognizes that high quality after-school programs contribute to children's overall social and emotional development and their academic achievement in school. We offer evaluation services for after-school programs to provide you with helpful assessments and valuable feedback.

Tools and Measures

We have a range of tools and measures for screening and assessment, including measures for children, teachers, parents, and other professionals in a variety of educational settings.