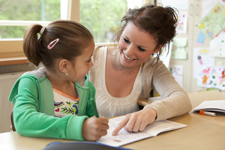 Promoting and facilitating high quality early education and care initiatives contribute to a strong start for young children.
Early childhood administrators and educators look to Children's Institute for services, training, programs, and partnerships that can make positive and measurable differences in early childhood education efforts.
RECAP is a community-wide assessment process that improves the quality of programs for three- and four-year-olds, including prekindergarten classrooms. Over 2,000 children and 170 classrooms are assessed annually.
Pathways is a child care accreditation service developed by a partnership of community experts in the field of early education and care.