Social and Emotional Learning: Transforming the settings where children grow, learn, and play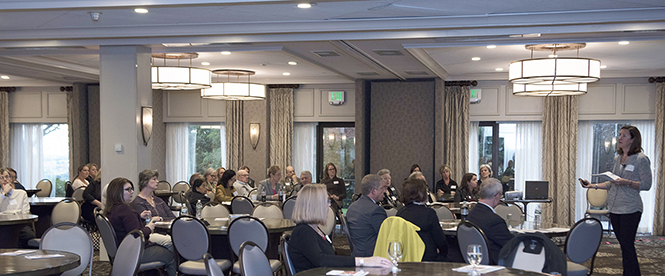 Children's Institute 2017 Coterie Inductees include:
The Coterie of Children's Institute comprises a select group of individuals who have provided sustained, significant, and very special support to Children's Institute. The following people will be honored for their contributions to the work of Children's Institute and inducted into the Coterie: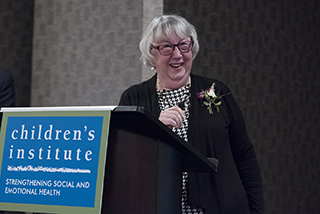 Deborah Johnson
Over the past 25+ years, Debbie Johnson has contributed significantly to furthering the mission, vision, and development of Children's Institute. Debbie's commitment to promoting families and children's social and emotional health has remained core to all her areas of work including: Rochester Early Enhancement Project (REEP), Rochester Safe Start, PATHS (Promoting Alternative THinking Strategies), Primary Project, and Same Sky Sharing.
While at Children's Institute, and in her role as Director of National Services, Debbie was a key participant and instrumental in guiding Children's Institute's strategic planning efforts that provided a map for the future growth of Children's Institute. She has also served as a strategic planning coordinator for the National Association of School Psychologists (NASP).
Over the years she has developed strong relationships with community-based organizations such as: United Way, Rochester Area Community Foundation, Greater Rochester Health Foundation, The Children's Agenda, ROC the Future, Rochester City School District, the early childhood community, and other schools and educational organizations nationally. Through those partnerships she continually looked for ways to grow opportunities that fit with existing programs as well as the mission of Children's Institute. As a talented trainer in Primary Project she has highlighted the importance of relationships with young children and the importance of play in schools.  
Children's Institute is grateful for Debbie's contributions to supporting the social and emotional health of children and families locally and nationally.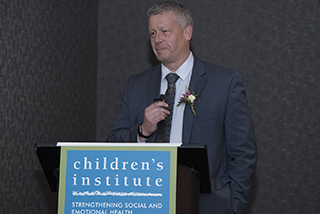 Jeffrey Kaczorowski, MD
As Professor of Pediatrics at the University of Rochester, Jeff Kaczorowski, MD, is a long-time friend and supporter of Children's Institute and its mission in promoting the social and emotional health of children. As a Professor of Pediatrics at the University of Rochester with a background in community health focused practices, he has provided leadership for The Children's Agenda, a local advocacy organization that works closely with Children's Institute to promote evidence-based programming, ongoing research, and advocacy to bring about transformative change in the health and well-being of children in the greater Rochester community. In this role, he was instrumental in advocacy that led to the formation of the Rochester-Monroe Anti-Poverty Initiative (RMAPI) and in the mission of ROC the Future and its work to align and focus community resources to improve the academic achievement of Rochester's children.
His close working relationship with Dirk Hightower, Ph.D., has resulted in many innovative and successful programs serving the needs of children including Grow-Rochester, an effort to improve the health outcomes of four-and five-year-old children in the city of Rochester. Jeffrey has also led national efforts to train pediatric residents in community health and advocacy as principal investigator and director of the American Academy of Pediatrics, Community Pediatrics Training Initiative. Finally, he has led advocacy efforts that increased public investment of $9 million in 2009 to allow 1,000 children of working, poor parent's access to child care in Rochester/Monroe County.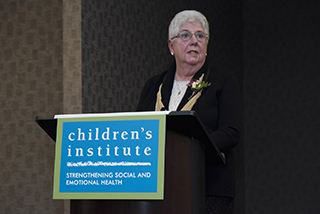 Gary Lazenby (posthumously)
In May 2014, we lost our beloved colleague, Gary Lazenby. Diagnosed with pancreatic cancer, just two weeks later, Gary passed surrounded by his loving family. Gary joined Children's Institute in spring of 2004 as part of our U.S. Department of Education's School-Aged Childhood Character research grant. Gary's role was to support the implementation of the social and emotional learning program PATHS (Promoting Alternative THinking Strategies) in local urban and suburban elementary schools. At that time, Gary was the newly retired principal of Indian Landing Elementary in Penfield where he served for fourteen years. From that vantage point, and from his previous 22 years as an elementary school teacher, Gary understood the critical importance of social and emotional learning to children's overall well-being and development, as well as to their academic success.
Gary was our agency's lead for PATHS for a decade. He developed into a highly respected national leader and trainer for the program. Gary consulted and collaborated with numerous city schools throughout his tenure in PATHS to improve social-emotional and academic outcomes for young children. Among his colleagues at Children's Institute, Gary was known to live what he preached. He was an active listener, a problem solver, and a generous co-worker who would place his own tasks on hold to support yours. Gary's presence at Children's Institute felt huge, but his absence feels bigger. Children's Institute honors our friend and colleague as we effectively support the social and emotional learning of the children about whom Gary Lazenby cared so passionately. 
Past Inductees
2001

Mary L. Consler
Eleanor Eksten
Thomas R. Frey
Kenneth F. Harris
Kathleen E. Leary
James Starkweather

2003

William G. Haffey
Roger J. Robach

2005

Ann Farie
Richard Huxley
Barbara Purvis

2007

Primary Project Child Associates 1957-2007

2009

Andrew S. Doniger, M.D.
Donna Fielding
Robert Silver

2011

The Community Foundation
Eleanore Hanson Herman

2013

David Broadbent
Audrey Cummings
Sharon DeVita

2015

Carol Gravetter
Esther Karp