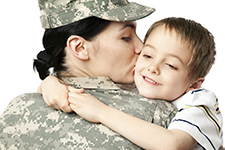 Children's Institute recognizes that children of military families have special needs that require extra support. 
Over 700,000 children across the U.S. have a parent who is deployed. Same Sky Sharing is a program that focuses on helping children adjust to change and transition. 
Our Same Sky Sharing curriculum is designed to help military children adjust to a parent or family member's deployment. Through age-appropriate small group sessions, trained leaders can help children learn that "even though we are miles apart, we still share the same sky."
In choosing Same Sky Sharing curriculum for your students, you will be able to help them understand these difficult family changes and the emotions surrounding them. We are certain that our curriculum will exceed your expectations.
Audience:
Counselors and mental health professionals in schools, community groups, and after-school groups who serve kindergarten to 6th grade students
Goals:
Minimize emotional and behavioral problems that may result when children experience military separations in their families
Increase children's abilities to identify and appropriately express their feelings and understanding about family change and transitions
Increase children's relevant coping skills and help them identify and use support systems
Enhance children's positive perceptions and strengths of themselves and their families
Benefits:
Children gain a better understanding of family change and associated feelings
Children are better able to cope with changes that are beyond their control
The positive, supportive group environment of peers in the school setting allows children to share their experiences and learn from one another
How it Works:
School personnel, community members, or parents refer children to the program
Trained counselors conduct the groups
Children meet for eight group sessions
Specially-designed activities, including board games, ensure that each child receives age-appropriate information and skill-building activities