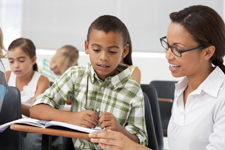 Strength-based social and emotional screening tool
Social and emotional health has been demonstrated as a factor in academic success and a contributor to positive outcomes. Many schools and communities have now begun making it a priority. Children's Institute can help you make the choices that are best for your students.
Screening and identifying at-risk children is essential to improving social and emotional health, and our T-CRS measure can support your efforts. Researchers at the University of Rochester and Children's Institute originally developed the T-CRS for screening and identifying children at-risk. Now, we have made it available for use with screening, progress monitoring, program evaluation, and Response to Intervention (RtI).