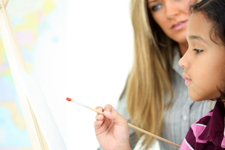 Children's Institute is pleased to offer a range of training and professional development opportunities to meet your needs.
We partner with you to offer safe, comfortable, efficient, and rewarding training experiences for adult learners of all ages.
We know how important professional development is to you. That's why we want to provide you and your team with the best training and information possible. We also know that, in many cases, the most effective trainings do not happen in a single session, but are delivered in multiple sessions over time. We'll work with you to create a training plan to ensure that the time you devote to professional development will result in improved processes for your staff and your programs.
Our highly skilled facilitators can deliver our professional development trainings either at your site or in our conference center, equipped with projection, internet access, break-out rooms, and kitchen facilities.
When you choose training from Children's Institute, you will receive appropriate, respectful, and targeted instruction. We list a variety of topics for training, as well as program-specific opportunities. Whether you are a teacher, clinician, mentor, administrator, or other professional, we encourage you to select whichever training best suits your needs,
We invite you to contact us with questions about training and how we can help.