Rochester Area Parent Program (RAPP)
14 June 2018 |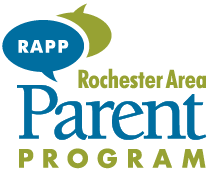 Earn $$ while you learn in the Rochester Area Parent Program (RAPP). Parents of Rochester young children may enroll in this program provided by RAPP.
RAPP uses video and parent group discussions to address the topics of greatest interest to parents of young children
Who may participate?
Parents/legal guardians of children attending these Rochester pre-K programs
ABC Head Start
Ibero Early Childhood Services
Rochester Childfirst Network
Rochester City School District

Parents of children not attending the programs listed above may contact Children's Institute for help finding a group
What will be involved?
You will be asked to attend the 12-session Rochester Area Parent Program
Fill out very brief surveys before and after the program
Receive up to $300 for your participation

$20 for every parent group session you attend
$5 for every "practice assignment" you complete

Contact us for more information on the Rochester Area Parent Program.