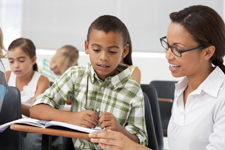 School districts and organizations routinely collect large volumes of data about children and youth in the hopes of supporting their success in the classroom and in life. 
Then come the challenges, such as how to gather it all together and get it to teachers, administrators and mental health professionals so that they can make efficient and effective decisions. That's where the COMET® System (COMET) makes a difference.
A web-based data management tool developed by Children's Institute and technology partner COMET Informatics LLC, COMET collects and manages data and supports decisions for multiple levels of information. By linking new and existing data sources, COMET provides easy access for professionals across disciplines. COMET is:
Easy. Input responses to screening and assessment tools with the click of a mouse.
Fast. Save time completing instruments electronically instead of on paper; there's no copying or shipping required.
Accessible. Retrieve browser-based, multi-lingual instruments during class, off hours, at home or at the library.
Immediate. Enjoy real-time feedback on scores and reports.
Targeted. Identify children's strengths and issues quickly; develop individual or group plans immediately.
Flexible. Customize by adding surveys, forms, instruments and reports quickly and easily.
Affordable. Transaction costs can be equal to the cost of paper measures.
COMET Offers:
Immediate access to simple pre-post evaluations and facilitates the completion of more complex evaluations
Integration with existing IT
Make Data-Driven Decisions:
COMET can tell you how a child is doing in class, evaluate the results of a program, and document a return on investment for a newly funded initiative. A powerful tool for the education community, COMET delivers answers in an easy-to-understand format. Access the most recent student data from a variety of sources, as well as historical data and trending to insure a continuity of information when children change grades and schools. Global reports by schools, grades, programs, interventions or any grouping of interest are also available, allowing for ongoing evaluations and improvements after implementation.
How It Works:
Web-based and user-friendly, COMET collects and manages data electronically for multiple levels of information
COMET links new and existing data sources, and provides easy access for professionals across disciplines with just the click of a mouse
Daily ticklers and reports are built in to promote the timely administration of instruments and improve response rates
Getting COMET up and running is easy to do: The only requirement is Internet access with a recent computer and a professional-grade communication line
We provide the initial installation, training and support
We also offer fee-based arrangements for ongoing support, as needed
Recognized By:
The Rochester City School District and United Way of Greater Rochester for ongoing data entry and analysis to support data driven decisions for programs and projects