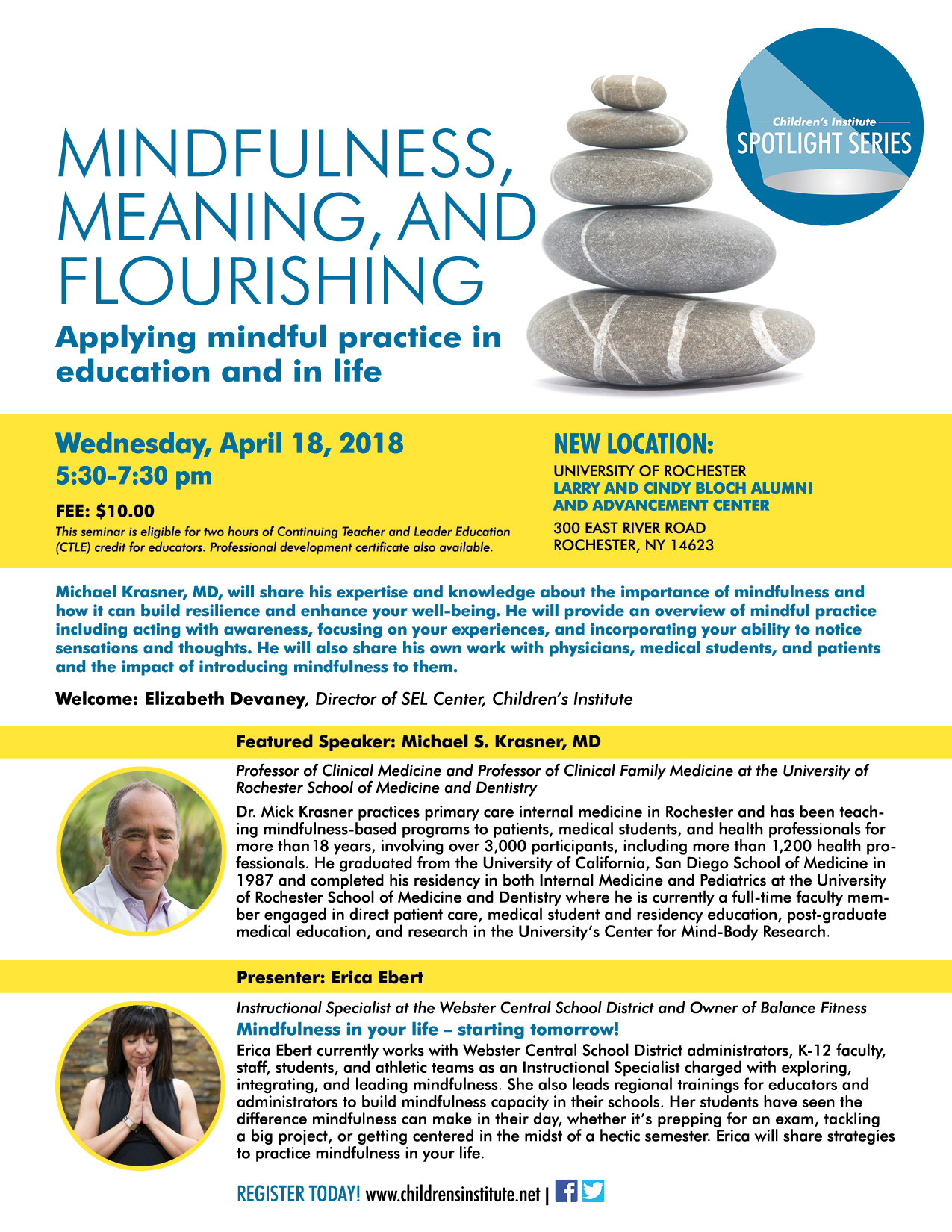 ---
Mick Krasner, MD, FACP
Dr. Mick Krasner, Professor of Clinical Medicine and Professor of Clinical Family Medicine at the University of Rochester School of Medicine and Dentistry, practices primary care internal medicine in Rochester, and has been teaching Mindfulness-Based programs to patients, medical students, and health professionals for more than 18 years, involving over3000 participants, including more than 1200 health professionals. He is engaged in a variety of research projects including the investigations of the effects of mindfulness practices on the immune system in the elderly, on chronic psoriasis, with caregivers of Alzheimer's patients and on medical student stress and well-being. He was the project director of Mindful Communication: Bringing Intention, Attention, and Reflection to Clinical Practice, sponsored by the New York Chapter of the American College of Physicians, funded by the Physicians Foundation for Health Systems Excellence, and reported in JAMA in September 2009. He is interested in the connection between health professional well-being and the effectiveness of the healing relationship.
Dr. Krasner graduated from the University of California, San Diego School of Medicine in 1987 and completed his residency in both Internal Medicine and Pediatrics at the University of Rochester School of Medicine and Dentistry where he is currently a full-time faculty member engaged in direct patient care, medical student and residency education, post-graduate medical education, and research in the University's Center for Mind-Body Research. He has shared his work in peer-reviewed publications, scientific assemblies, workshops, visiting professorships, and intensives throughout the world, focusing primarily on the roots of Hippocratic medicine through the cultivation of attention, awareness, and reflection of the health professional- healing relationship. He describes his personal mission as centered on compassion in medicine- for the self and others, and envisions a personalized health professional-patient relationship where healing is truly bidirectional, care goals are mutually derived, and the uniqueness of the clinical encounter reflects this central act of mutual high regard.
Erica Ebert
Erica Ebert, who began her career in 1997 as an English teacher, is the owner and founder of Balance Fitness & Yoga in Webster, NY. She is an E-RYT 500, R.C.Y.T., Y.A.C.E.P., who has trained many yoga teachers and has taught close to 4,000 hours of yoga, meditation, and mindfulness.
She has practiced meditation for over 10 years and also has had a distinguished career as an educator, Instructional Specialist, Curriculum Writer, and Professional Development Specialist. In 2009, Erica was named Teacher of the Year for the Highland Park ISD in Dallas, Texas where she served as the Lead Teacher for Sophomore English. Upon her return to New York, Erica led a team of academic and instructional support teachers where she oversaw the development of curriculum and created professional development opportunities for teachers and administrators. Currently, she is proud to be working with the Webster Central School District administrators, K-12 faculty, staff, students, and athletic teams as an Instructional Specialist charged with exploring, integrating, and leading mindfulness. Erica also leads regional trainings for educators and administrators to build Mindfulness capacity in their schools.
---
Follow the Spotlight Series
---
Seminars are eligible for two hours of Continuing Teacher and Leader Education (CTLE) credit for educators. Professional development certificate also available.
Contact
Contact us with questions about the Spotlight Series.