Offers you FREE use of a Chromebook tablet and 4 months of FREE access to the internet.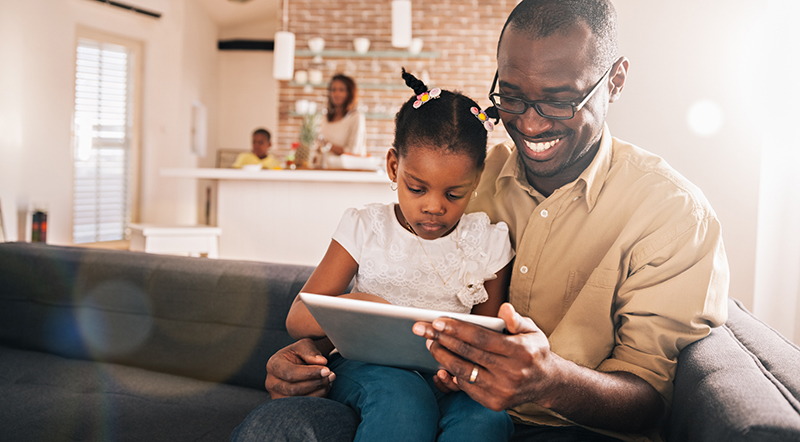 ---
The Caring Connections program was developed in Spring 2020 to address the digital access crisis and to support engagement with families of pre-K-aged children in the city of Rochester.
In Year 1 (2020-21), over 319 families participated throughout school-based and community-based sites. Devices (WiFi and tablets) were distributed to families in need of them, and family engagement specialists worked with families to enhance digital literacy and promote connectedness. In Year 1 of the intervention, we found that attendance rates were higher for children of families who participated in the program (see Duprey et al., 2021).
In Year 2 (2021-22), we partnered with family engagement specialists (i.e., our "Caring Connectors") to co-develop and implement a series of webinars in spring 2022. The goal of webinars was to educate parents about the importance of play for pre-K children, to improve attendance of pre-K children, and to facilitate engagement with pre-K parents (both among each other and between families and schools). The four webinar topics included "The Importance of Play", "Meaningful Media Play", "Attendance Matters!", and "Planned Play-Why it Matters!". We found preliminary evidence that a school partner-driven intervention to increase family engagement was effective in increasing child attendance and positive parent/family attitudes on play. Additionally, parents and teachers revealed critical insight on their knowledge, attitudes, and beliefs about play, attendance, and family-school communication and engagement. Given findings earlier in the report on decreases in attendance, and significant associations between attendance and important student outcomes, we believe it is important to continue this or similar interventions that have potential to increase engagement and attendance.
Plans for Year 3 of the Caring Connectors intervention are underway, and details will be forthcoming in the next annual RECAP report.
COVID continues to interrupt connections and services that support your family. Access to the internet is more important than ever – for learning, playing, and health.
Caring Connections will learn from you, as your family's leader about how to best support YOUR goals, interests, and important family needs.
Caring Connections helps your family stay safe and well during COVID. Your preschool's contact will help you connect with:
Places to get food
Tips from other parents
Tips on early childhood education
Products for health and safety
Remote learning / technology support
Health and safety supplies and resources
Quick developmental checks for your child
… and more!
During the 4 month program, a Caring Connectors support person from your child's preschool will support you for 10 weeks – to help you use the tablet and help to connect your family to online services.
All services are FREE.
The tablet is being managed by the Rochester City School District (RCSD), so keep it as part of your child's preschool enrollment until new devices are provided by the RCSD.
Use this tablet to find helpful – and healthy – community information!
---
---
---
Contact
We look forward to working together to support young children – and your family.
Contact us for more information about joining CARING CONNECTIONS.