Community Breakfast and Coterie Award Celebration
29 April 2022 |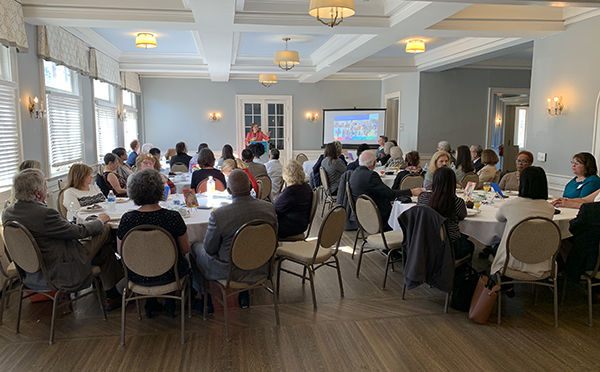 On Thursday morning, April 28, 2022, Children's Institute (CI) held a celebratory Community Breakfast at Rochester's beautiful Century Club. Attendees, including CI board members from around the country, enjoyed our first in-person event with a theme of "Community Gems", showcasing the power of play and recognizing the child within us all. CI staff enjoyed demonstrating our work with interactive examples across three main areas:
Healthy Development of Social-Emotional Life Experiences including parent empowerment and youth leadership,
Child-Centered Culturally Responsive, Play-Based Practices including developmental and health screenings, benefits of play, and
Quality & Information Services for Parents, and Child & Youth-focused Staff including classroom observations centered on quality, parent-provided child assessments, and child & youth-focused staff support.

The event's highlight was the induction of four new distinguished members into our Coterie:
Jackie Campbell
Dennis DeLeo
Charlotte Landhuis
Serge Lossa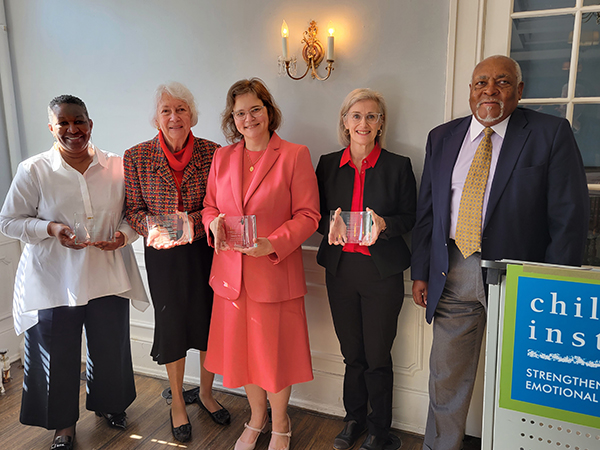 A "Coterie" is defined as a close circle of friends or associates: a small and often select group of persons with a common purpose. In 2001 our organization created the Children's Institute Coterie to recognize those individuals who have provided significant, sustained and very special support to Children's Institute. These individuals have worked tirelessly toward our common purpose – to join together to raise every child's complete wellbeing so that supportive communities exist where every family can raise children who thrive as they live, learn, and play.
We are delighted to share key points from each new Coterie member's nomination:
Jackie Campbell:
Leads ROC the Future, a collective impact initiative and part of the national StriveTogether network, with 4 goals: every child in Rochester is school ready, supported, successful, and college & career ready.
CI's work is very aligned with ROC the Future's efforts under Jackie's leadership; we are a convener and a member agency of this effort, and now the fiduciary and anchor entity. ROC the Future leverages information from CI, such as the RECAP and Get Ready to GROW programs, and our staff work on many of ROC the Future workgroups, commissions and CAN efforts.
Embodies collective impact with her commitment to advance multiple components of system change
Has been an exemplary partner with CI for many years; always welcoming, supportive and respectful.
Models strong and honest leadership, working as a part of an integrated community that cares for every child's complete wellbeing.

Denny DeLeo:
Served on the Children's Institute Board from 2015-2019 (4 years), as well as on the board of COMET Informatics LLC, CI's long time technology partner.
Highly engaged board member with valuable insight and input into CI development and growth during a volatile funding environment
Through his work on the Development Commitment, introduced the concept of CI's Spotlight Series – seminars that feature both employees and outside experts.
Launched Venture Jobs Foundation in the interest of equity to develop entrepreneurs and job creators within underserved neighborhoods
Provides innovative leadership and key management insights based on entrepreneurial and operational expertise, wisdom in the principles of successful partnerships, and clarity of focus when attending to challenges

Charlotte Landhuis:
Spent many years as a community volunteer with a commitment to improving the lives of children including work with:

The Junior League of Rochester
The Rochester General Hospital Association
Setting up an apprentice program through the Rochester Area Community Foundation to prepare Rochester City School District students for a career in healthcare
As well as advisory support with the Rochester School for the Deaf

Served on the Children's Institute Board from 1998-2005 (8 years)
Charlotte and her husband Leo funded the library room at Children's Institute. They continue to show dedication and support both financially and by attending Community Updates and special events over the years.

Serge Lossa:
Co-founder and Co-CEO of COMET Informatics with Dirk Hightower, he conceptualized and designed the COMET system. COMET has been foundational for CI to have secure data collection and reporting, and is an important technology for CI, as well as many other child-focused organizations in our community and nationally.
Joined with Dirk to passionately innovate CI program development, which enabled CI to have reached and served more than 600,000 children
A mentor at heart: providing subject matter expertise and fellowship; recognizes that leadership is a profound responsibility.
"One must reflect in advance on key principles, values and ethics. At the heart of the action, it's then too late."
His leadership, values, technology innovations and partnership work with Children's Institute and COMET has helped CI grow as an organization and further its mission
These individuals join the following distinguished Coterie Members:
2001
Mary L. Consler
Eleanor Eksten
Thomas R. Frey
Kenneth F. Harris
Kathleen E. Leary
James Starkweather
2003
William G. Haffey
Roger J. Robach
2005
Ann Farie
Richard Huxley
Barbara Purvis
2007
Primary Project Child Associates: 1957-2007
2009
Andrew Doniger
Donna Fielding
Robert Silver
2011
The Community Foundation
Eleonore Hanson Herman
2013
David Broadbent
Sharon DeVita
Audrey Cummings
2015
Carol Gravetter
Esther Karp
2017
Deborah Johnson
Jeffrey Kaczorowski
Gary Lazenby
2019
Susan Gorin
Patricia Leo
Mary Anne Peabody
Jonathan Trost