What Is the Pyramid Model?
07 January 2019 |
By Ellen Leopold, Pyramid Model Master Cadre Trainer
The Pyramid Model is a social and emotional learning framework that-- when implemented with fidelity-- promotes young children's healthy development, and prevents challenging behaviors. The core work in the Model focuses on building adults' skills so that they can support children's social and emotional health. This is done through strengthening relationships and directly teaching emotional literacy, self-regulation, listening, friendship skills, and basic problem solving. The Model addresses how and when to identify and provide for children who may need individualized supports.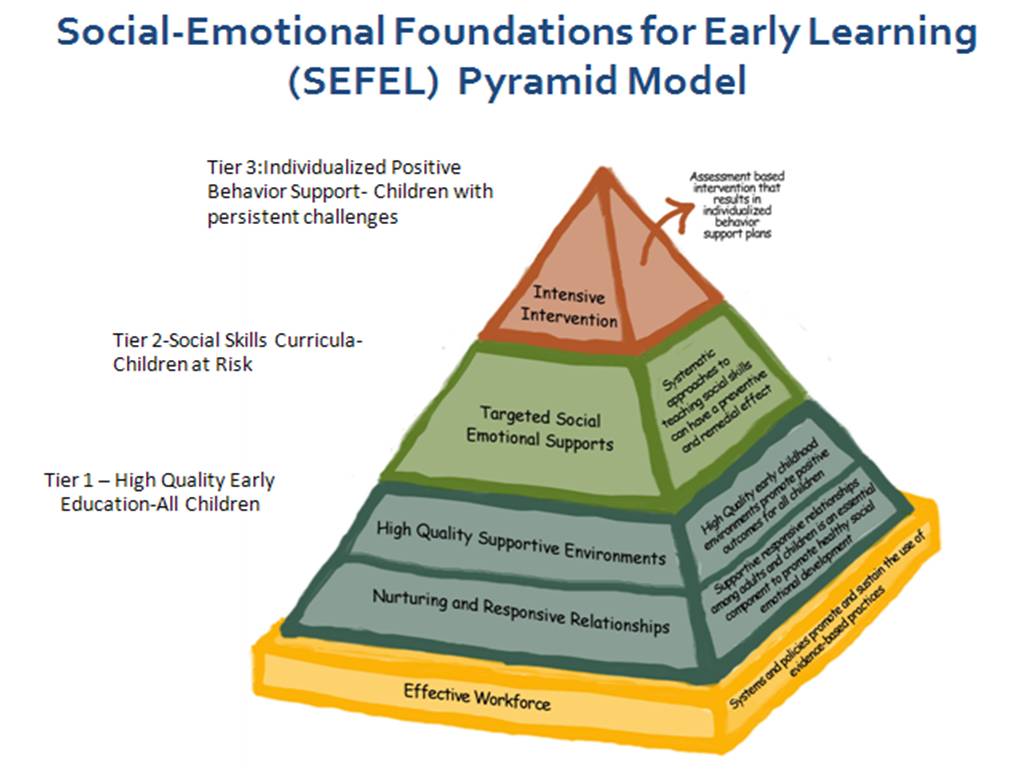 The Pyramid Model is a tiered (promotion, prevention, intervention) public health framework into which care-givers, professionals, and systems can assess, align and implement evidenced based strategies and practices that support children socially and emotionally. Funded by the federal government, the Pyramid Model was developed by leading early childhood researchers affiliated with the Center for Social and Emotional Foundations (CSEFEL housed at Vanderbilt University), and the Technical Assistance Center on Social and Emotional Intervention (TACSEI at Georgetown University).
So why is the Pyramid Model worth some renewed attention? With regard to Pyramid Model strategies and practices, teachers and caregivers report what national studies demonstrate; as adults become more responsive, predictable, and nurturing, children's healthy pro-social development evolves. Change occurs through a process that includes training and coaching, and understanding how behaviors serve as communication that (positively or negatively) affect relationships and learning; behaviors that are reflected upon include the children's as well as the adults' responses. A related bonus to the Model: when adults become pro-active, and children's engagement and behaviors improve, teachers report greater job satisfaction-- and burn-out is reduced!
New York is one of 27 states comprising the Pyramid Model Consortium. Adopting the Model in 2015, New York identified and then prepared (over the course of 2016) forty-seven social and emotional early childhood professionals to serve as Pyramid Model Master Cadre Trainers and Coaches. Children's Institute is proud to claim two of New York's Master Cadre on our staff.
Contact us directly for opportunities for Pyramid Model training.